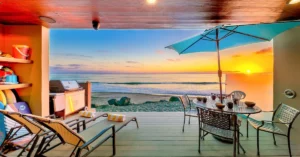 Short term rentals can be a great way to experience a city for a few reasons:
More Authentic Experience: Short term rentals often allow you to live like a local and experience a city as if you were a resident. You can find rentals in residential neighborhoods, away from the tourist areas, giving you the opportunity to discover local shops, restaurants and other hidden gems that you may not have known existed.
Cost-Effective: Short term rentals can be more cost-effective than staying in a hotel, especially if you're traveling with a group or staying for an extended period. You can often find a rental that has a kitchen, allowing you to cook your meals and save money on dining out.
Flexibility: Short term rentals often offer more flexibility than hotels. You can typically check in and check out at your own convenience, and you have the freedom to come and go as you please without worrying about hotel staff or other guests.
Comfort: Short term rentals can offer more comfort than hotels. You'll have more space to spread out and relax, and you can often find rentals with amenities like a private pool or hot tub.
Overall, short term rentals can be a great way to experience a city in a more authentic, cost-effective, flexible and comfortable way than staying in a hotel. However, it's important to do your research and make sure you're booking through a reputable platform and renting from a trusted host to ensure a safe and enjoyable stay. There are many types of websites that offer short term rental with the most popular being AirBNB. But there are also many local short term rental companies. I fantastic one in San Diego is called HauseStay.
Interested in moving to San Diego, Q Homes would love to help you find your perfect home. There's always a good deal somewhere and we promise to do our best to find them for you at Q Homes. Click on the link for our website. www.qhomescarlsbad.com.