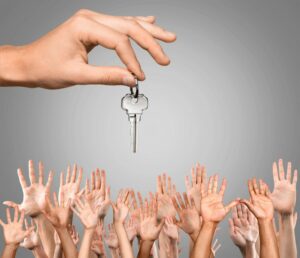 The return of multiple offers on homes has become a prominent trend in the real estate market, especially during the spring selling season. With the lack of housing inventory, homebuyers are facing intense battles to secure their dream homes. Despite high interest rates limiting their purchase power, offers over the asking price have become increasingly common.
In recent years, the housing market has experienced a scarcity of available homes. This scarcity has created a sense of urgency among buyers, leading to multiple offers on desirable properties. Homebuyers are willing to go above and beyond the asking price in order to stand out from the competition and secure a home in the highly competitive market.
Although high interest rates have impacted homebuyers' purchasing capacity, the limited supply of housing has outweighed these concerns. Buyers understand that waiting for interest rates to decrease might mean missing out on their desired properties altogether. Therefore, they are willing to stretch their budgets and make offers over the asking price to increase their chances of success.
The intense competition for homes has resulted in bidding wars and increased property values. Sellers, benefiting from this demand, have the advantage of choosing from multiple offers and selecting the most lucrative one. As a result, homes are frequently selling for prices well above the initial listing price, creating a profitable situation for sellers.
Real estate agents are witnessing the impact of this market phenomenon firsthand. They are advising clients to be prepared for competitive bidding situations and to act swiftly when a desirable property becomes available. Additionally, agents are leveraging digital marketing strategies to target potential home sellers who may be hesitant to list their properties due to the shortage of housing inventory.
In conclusion, the lack of housing inventory during the spring selling season has led to the return of multiple offers on homes. Despite the presence of high interest rates limiting homebuyers' purchase power, the fierce competition for limited properties has caused buyers to make offers over the asking price. This trend has created intense battles in the real estate market, with sellers benefiting from the lucrative opportunities. To navigate this challenging landscape, both buyers and sellers should stay informed and work closely with experienced real estate professionals who can provide valuable guidance during the buying or selling process.
Interested in moving to San Diego, Q Homes would love to help you find your perfect home. There's always a good deal somewhere and we promise to do our best to find them for you at Q Homes. Click on the link for our website. www.qhomescarlsbad.com.