There are so many reasons why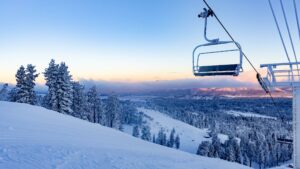 The state of California has everything you could possibly want to enjoy outdoor adventures. Whether you enjoy skiing/snowboarding, hiking, camping, surfing or the beach life, California provides the backdrop so that you can get your adventure on. One of the best kept secrets of the winter time in Southern California is the ability to snowboard and surf in the same day. The close proximity to the southern California coast towns have and to the local snow capped mountains is only a few hours away. And for those who are adventurous in the mountain and ocean sports, you can check this item off your bucket list. You must start early to accomplish your mission. Being able to enjoy some powder turns at Big Bear Mountain Resort in the morning and then shoot down the mountain for a 2-3 hour drive to the Pacific Ocean. In no time you will be enjoying some amazing waves having snowboarded or skied earlier in the day. This is a tradition that is unique to the area because of our close proximity to the mountains and ocean. One of the best kept secret of California!
Interested in moving to San Diego, Q Homes would love to help you find your perfect home. There is always a good deal somewhere and we promise to do our best to find them for you at Q Homes. Click on the link for our website. www.qhomescarlsbad.com.