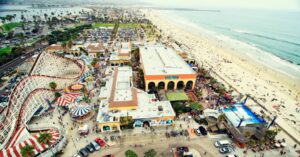 Summer has finally arrived in sunny Southern California, and families are thrilled to explore the myriad of exciting activities this region has to offer. With its reputation as a hub for family amusement parks, Southern California promises an unforgettable summer experience for visitors of all ages.
From thrilling roller coasters to interactive water parks, Southern California's amusement parks provide endless entertainment for families seeking adventure. Knott's Berry Farm, Disneyland Resort, Legoland and Universal Studios Hollywood are just a few of the iconic parks where kids and adults can immerse themselves in magical worlds filled with excitement and wonder. The abundance of rides, shows, and attractions cater to children of all ages, ensuring a fun-filled day for the entire family.
However, Southern California's summer offerings extend far beyond amusement parks. Families can enjoy the great outdoors by attending outdoor movies and summer music festivals. These events provide an excellent opportunity for children and parents to unwind and enjoy the warm summer nights while being entertained by blockbuster movies or live performances from renowned artists.
Moreover, Southern California is renowned for its world-class beaches. The region boasts a variety of stunning coastal destinations, such as Malibu, Santa Monica, and Newport Beach. Families can bask in the golden sun, build sandcastles, and frolic in the refreshing waves. Whether it's swimming, surfing, or simply lounging on the sandy shores, Southern California's beaches offer endless possibilities for a memorable summer getaway.
In conclusion, Southern California's summer charm lies in its diverse array of family-friendly activities. From the heart-pounding thrills of amusement parks to the enchantment of outdoor movies and music festivals, there is something for everyone. And let's not forget the region's pristine beaches, where families can create unforgettable memories under the warm California sun. So, pack your bags, gather your loved ones, and embark on an unforgettable summer adventure in Southern California.
Interested in moving to San Diego, Q Homes would love to help you find your perfect home. There's always a good deal somewhere and we promise to do our best to find them for you at Q Homes. Click on the link for our website. www.qhomescarlsbad.com.