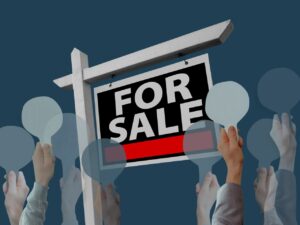 This years housing market is beginning with fewer homes on the market for buyers to choose from. There is little incentive for sellers to list their homes in this current market. Buyers have a greater negation power in this current market and with higher interest rates sellers have little incentive to list their homes. The average time to sell a home has grown to 54 days which is more than the 36 days it would take to sell a home last year. The time on market is longer in the top 50 metropolitan areas with the greatest increase in Raleigh, North Carolina (up 42 days), Kansas City, Missouri (up 37 days), and Austin, Texas (up 37 days).
Buyers are showing that they are extremely sensitive to the drop in interest rates with an increase in mortgage applications every time the rate drops for a short period of time. With low inventory and high interest rates buyers are taking advantage of opportunity when the rates drop. The challenge is that there is not a lot of inventory and when a good property comes up for sale it can go quickly into contract as there are so few inventory and so many buyers. Competition can be fierce for buyers.
All real estate is local. Some markets are seeing a pull back in prices in Austin, Tx or Las Vegas, NV but are also on the rise in markets like Miami, FL and Atlanta, GA are seeing big gains. Buyers still have the advantage in negotiation of a property because of the market sentiment. When the attitude changes with a combination of lower interest rates the market is going to surge. Buyers with a long horizon could take advantage of this opportunity of fear to pickup property before the next rise in the market.
Click for Article on CNBC – Full Article
Interested in moving to San Diego, Q Homes would love to help you find your perfect home. There is always a good deal out there and we promise to do our best to find them for you at Q Homes. Click on the link for our website. www.qhomescarlsbad.com.