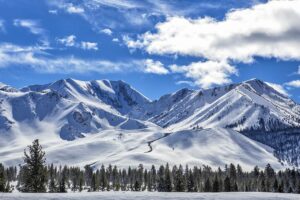 California has been in a perpetual drought for the last several years. Bringing major concerns of having enough water for the state as reservoirs get to their lowest levels in years. But things have changed this winter with the record snowfall and rain that has been hitting the west coast state all winter long. The resorts in both Tahoe and Eastern Sierras have had record snowfall forcing the resorts to not open up at all to do avalanche control as the snow level is so overwhelming to the resort groomers and avalanche teams. The amount of rain and snowfall has taken California out of the most extreme drought warnings but it still has a long away. Previously the state was 85% in extreme drought conditions but after these series of winter storms only 33% of California is in extreme drought. There is still a long way to go as scientist say that there need to be a lot more storms before California is able to be out of the dangers of droughts. The underground water levels have been seriously affected and will need years of good storms before they recover.
Take advantage of the snowfall right now. Who knows when it will be this good in the mountains again. This winter has had the blessing of a 100 year storm with it dropping over 6o0 inches of snow in some locations. Grab your ski's and snowboard and hit the mountains with your friends.
Interested in moving to San Diego, Q Homes would love to help you find your perfect home. There is always a good deal out there and we promise to do our best to find them for you at Q Homes. Click on the link for our website. www.qhomescarlsbad.com.