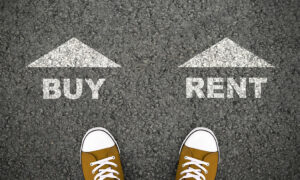 Renters across the nation find themselves at a critical juncture as rental prices soar, prompting them to question the feasibility of continuing to rent or explore the option of purchasing a home. The relentless increase in rental prices can be attributed to multiple factors, including high interest rates and a scarcity of available housing inventory, which has compelled many individuals to favor renting over buying. This prevailing trend is not confined to a specific region but is pervasive across the country, exerting upward pressure on rental costs. Consequently, those with the means to buy should seriously contemplate this alternative.
With rental prices climbing steadily, prospective homebuyers must evaluate the long-term financial implications of renting versus owning. While renting may offer immediate flexibility and lower upfront costs, purchasing a home can provide several benefits in the long run. By buying a property, individuals can build equity over time, potentially benefiting from property appreciation and a tangible asset. Moreover, homeownership grants individuals greater control over their living space, allowing for personalization and investment in home improvements.
Although the decision to transition from renting to buying should not be taken lightly, it is crucial to consider the current market dynamics. The combination of high interest rates and a limited housing supply has made renting an increasingly expensive option, potentially tipping the scale in favor of homeownership. Buyers can take advantage of historically low interest rates, making mortgage payments more affordable compared to rising rental costs.
It is advisable for renters to conduct thorough research, seek advice from real estate professionals, and assess their financial stability before making a decision. Exploring the available housing options, considering personal circumstances, and calculating potential mortgage payments are vital steps in the decision-making process. For those who have the means to buy, purchasing a home could provide financial security, stability, and the opportunity to invest in an appreciating asset.
In conclusion, renters nationwide are grappling with rising rental prices, prompting them to question the merits of renting versus buying a home. With high interest rates and limited housing inventory, renting has become an increasingly expensive choice. As a result, individuals who are financially capable should seriously consider the option of purchasing a home, taking advantage of historically low interest rates and potential long-term benefits. By carefully assessing personal circumstances and conducting thorough research, renters can make an informed decision that aligns with their financial goals and aspirations.
Interested in moving to San Diego, Q Homes would love to help you find your perfect home. There's always a good deal somewhere and we promise to do our best to find them for you at Q Homes. Click on the link for our website. www.qhomescarlsbad.com.