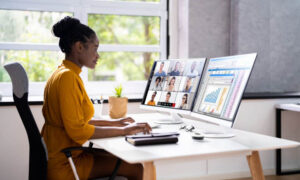 Remote work has had a major impact on commercial real estate in recent years. With more and more people working from home, there has been a significant shift in the demand for office space. This shift has caused a decline in the need for traditional office spaces, leading to a rise in commercial vacancies and changes in the types of spaces that are in demand.
One of the primary factors driving this shift is the cost-effectiveness of remote work. Many companies have realized that they can save money on rent, utilities, and other overhead costs by allowing their employees to work from home. This cost savings has led to a decrease in the demand for large office spaces, particularly in expensive urban areas.
Another factor driving the shift towards remote work is the desire for work-life balance. Many employees are looking for ways to achieve a better balance between their work and personal lives, and remote work provides them with the flexibility to do so. As a result, companies that offer remote work options are becoming increasingly attractive to employees, which is leading to a rise in demand for this type of work arrangement.
In response to these changes, commercial real estate developers and landlords are adapting their properties to meet the needs of the new market. Many are converting office buildings into mixed-use spaces that include residential units, retail space, and coworking spaces. This allows them to maximize their returns on investment by catering to the evolving needs of the workforce.
Overall, the shift towards remote work has had a profound effect on commercial real estate, with significant implications for developers, landlords, and investors. As more companies adopt remote work policies and more employees demand this type of work arrangement, the real estate market will continue to evolve to meet these changing needs.
Interested in moving to San Diego, Q Homes would love to help you find your perfect home. There's always a good deal somewhere and we promise to do our best to find them for you at Q Homes. Click on the link for our website. www.qhomescarlsbad.com.