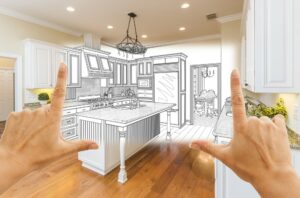 Preparing your home to stand out on the market as the spring selling season kicks off can help sellers stand out against the competition in this low inventory market. Home improvements can help your property stand out in this competitive market as low inventory is causing fierce competition and even bidding wars. But not all improvements add value to your home. New research from Zillow has shown that certain features may help sellers sell their home faster than expected when it comes time to sell.
According to Zillow certain upgrades should be flaunted in the sellers description. Highly sought after items are a steam ovens which raised value 5.6% or a pizza oven which also raised value 3.7%. Additionally "she sheds", quartz, hurricane storm shutters, terrazzo and professional appliances. Trends that are a result of the covid pandemic are home offices, home gyms, walkability, hardwood floors, shiplap and gas furnaces.
A lot of these features gives the home a wow factor for buyers to spark intense interest. These types of upgrades show the pride of homeownership and when the time to sell comes could greatly help the property stand out against the competition.
Interested in moving to San Diego, Q Homes would love to help you find your perfect home. There is always a good deal out there and we promise to do our best to find them for you at Q Homes. Click on the link for our website. www.qhomescarlsbad.com.
Click for Full Article on CNBC – Article