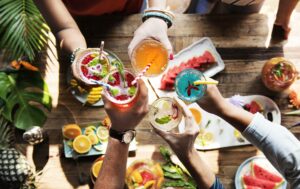 San Diego is known for its diverse culinary scene, so here are some new restaurants that you might want to check out this summer:
Animae – Located in the downtown area, this Asian-inspired restaurant offers creative dishes such as Peking duck, grilled octopus, and crispy shrimp toast.
Cesarina – This Italian restaurant in Point Loma serves traditional dishes such as handmade pasta, wood-fired pizza, and gelato.
Raised by Wolves – This speakeasy-style bar in La Jolla also serves small plates such as foie gras torchon, beef tartare, and wagyu sliders.
Not Not Tacos – Chef Sam the Cooking Guy's newest venture in Little Italy offers a unique take on tacos, such as "The It's Not a Banh Mi" taco or "The It's Not a Philly Cheesesteak" taco.
International Smoke – This fusion restaurant in Carmel Valley features dishes inspired by international barbecue traditions, such as smoked Korean short ribs, Jamaican jerk chicken, and Indian-inspired lamb chops.
The Lion's Share – This newly reopened restaurant in downtown San Diego offers contemporary American cuisine, including dishes such as venison tartare, grilled octopus, and duck confit.
These are just a few of the many new restaurants in San Diego worth checking out this summer. Bon appétit!
Interested in moving to San Diego, Q Homes would love to help you find your perfect home. There's always a good deal somewhere and we promise to do our best to find them for you at Q Homes. Click on the link for our website. www.qhomescarlsbad.com.