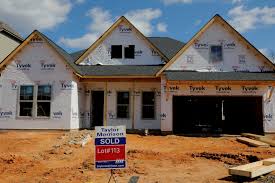 In April, there was a notable surge in new home sales, as they experienced a remarkable increase of 4.1%. This rise in sales contracts can be attributed to the limited availability of existing homes in the market. The lack of inventory has resulted in intense competition among buyers, making it challenging to find suitable options for purchase. This scarcity has pushed many potential homeowners towards new home sales, which have become the preferred choice due to the attractive incentives being offered.
According to reports, the current supply of existing homes is incredibly low, with virtually nothing available for sale. This scarcity has created a fierce marketplace where buyers find themselves vying for limited properties. In response to this heightened competition, new home sellers have resorted to dropping their prices to entice buyers and drive sales rates upwards. These price adjustments have effectively countered the prevailing high-interest rates of around 7%, making new homes more appealing and affordable.
Despite the positive trend in new home sales, builders face a challenge in meeting the demand. Builder sentiment is on the rise, indicating their willingness to construct more homes. However, there is a pressing need for increased construction to address the housing shortage adequately. Currently, the supply of new homes stands at approximately 7.6 months of inventory, emphasizing the necessity for more construction projects to match the demand.
In conclusion, April witnessed a significant 4.1% increase in new home sales, primarily driven by the lack of inventory in the existing home market. With limited options available, buyers are turning to new homes, which are becoming more appealing due to dropping prices and attractive incentives. Although builder sentiments are positive, there is a need for more construction to bridge the gap between supply and demand, as the current inventory stands at around 7.6 months. This trend highlights the opportunities present in the new home sales market, as buyers seek viable alternatives amidst a fiercely competitive real estate landscape.
Interested in moving to San Diego, Q Homes would love to help you find your perfect home. There's always a good deal somewhere and we promise to do our best to find them for you at Q Homes. Click on the link for our website. www.qhomescarlsbad.com.