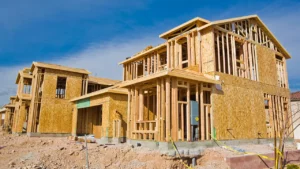 The real estate market is witnessing a significant decline in the number of existing homes being listed, down by a staggering 20% compared to the previous year. However, amidst this challenging scenario, there is a silver lining: the demand is gradually shifting towards new home construction. This shift can be attributed to the favorable mortgage rates in the United States, where a substantial 80% of mortgages are at or below 5%.
The attractive interest rates have created a reluctance among homeowners to list their properties for sale. With the current market offering mortgage rates as high as 6.5%, individuals are hesitant to give up their existing mortgages that come with lower interest rates. The allure of the potential savings through lower monthly mortgage payments is encouraging homeowners to hold onto their properties rather than venturing into the uncertain territory of securing a higher-rate mortgage.
This trend has resulted in a scarcity of available homes for potential buyers. As a result, many prospective homeowners are turning their attention to new home construction, seeking the opportunity to build their dream homes while taking advantage of the favorable interest rates. The demand for new construction is steadily increasing, with buyers recognizing the potential long-term benefits of securing a low-rate mortgage in the current market.
The shift in demand from existing homes to new home construction is causing a surge in the housing industry. Builders and developers are experiencing heightened interest in their projects, prompting increased construction activity. This shift is not only benefitting prospective homeowners but also stimulating economic growth within the construction sector.
Although the decrease in existing homes on the market poses challenges for buyers, the prevailing high mortgage rates have presented an opportunity for individuals purchase new homes with lower in house financing . As the market adapts to these changes, it remains crucial for prospective homeowners to explore their options and make informed decisions based on their financial goals and the prevailing interest rates.
Interested in moving to San Diego, Q Homes would love to help you find your perfect home. There's always a good deal somewhere and we promise to do our best to find them for you at Q Homes. Click on the link for our website. www.qhomescarlsbad.com.