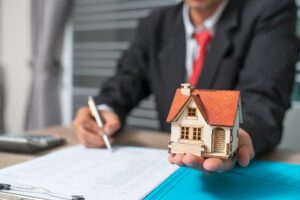 The mortgage industry is currently facing challenges as the demand for mortgages is dropping, despite recent declines in interest rates. According to recent data, the average contract interest rate for 30-year fixed-rate mortgages with conforming loan balances has decreased to 6.81% from 6.91%. Additionally, points have fallen to 0.66 from 0.83 (including the origination fee) for loans with a 20% down payment. However, this decrease in interest rates hasn't been able to stimulate mortgage demand significantly.
One of the main reasons for the drop in mortgage demand is the reduced purchasing power caused by higher interest rates. As interest rates rise, the cost of borrowing increases, making it more expensive for potential homebuyers to finance their purchases. This reduction in purchasing power has deterred many prospective buyers from entering the market, resulting in a decline in mortgage applications.
Another contributing factor to the decline in mortgage demand is the ongoing lack of available inventory in the housing market. Limited supply and high demand have created a competitive environment, with fewer options for homebuyers. This scarcity of for-sale inventory has further hampered the demand for mortgages.
Furthermore, the lack of rate incentives for refinance borrowers has played a role in the reduced mortgage demand. With interest rates still relatively high, there is little motivation for existing homeowners to refinance their mortgages. This has resulted in a slowdown in refinance activity, further impacting overall mortgage demand.
However, it is worth noting that government purchase applications have seen a relatively smaller decline compared to other sectors. This trend is attributed to the increasing presence of first-time homebuyers in the market. These individuals, often aided by government programs and incentives, are keeping the purchase activity from declining further.
In conclusion, despite recent declines in interest rates, the mortgage industry is facing challenges with dropping mortgage demand. Reduced purchasing power due to higher interest rates, a lack of for-sale inventory, and a lack of rate incentives for refinancing are all contributing factors to this decline. The presence of first-time homebuyers has somewhat mitigated the decrease in purchase activity, but overall, the mortgage market continues to face obstacles in stimulating demand.
Interested in moving to San Diego, Q Homes would love to help you find your perfect home. There's always a good deal somewhere and we promise to do our best to find them for you at Q Homes. Click on the link for our website. www.qhomescarlsbad.com.