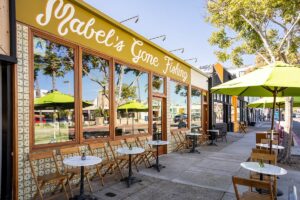 San Diego continues to add restaurants to the Michelin Guide for California for 2023 with its newest addition Mabel's Gone Fishing located at 3770 30th Street in North Park. A combination of amazing service, unbelievable food and views for days. The culinary delight of food cooked over coals locks in a unique flavor of South Africa. With over 100 local and international wines available for the most picky taste pallet.
"Raw items like oysters and simple crudos are a great way to start, and an assortment of natural wines and gin-based cocktails provide top-notch accompaniment"s are just a few of the items that will truly make you return for more.
Click for Reservation – Click for Reservation
Interested in moving to San Diego, Q Homes would love to help you find your perfect home. There is always a good deal out there and we promise to do our best to find them for you at Q Homes. Click on the link for our website. www.qhomescarlsbad.com.