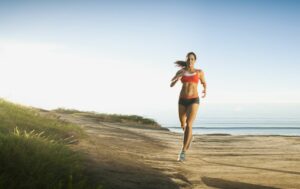 Living near the ocean has been shown to have several potential health benefits. Here are a few reasons why:
Reduced stress levels: The sound of waves crashing, the smell of saltwater, and the sight of a wide expanse of water can all have a calming effect on the mind and body. Studies have shown that spending time near the ocean can help reduce levels of the stress hormone cortisol.
Improved air quality: Sea breezes blowing in from the ocean can help improve air quality by bringing in fresh, clean air. This can be especially beneficial for people with respiratory issues.
Increased physical activity: Living near the ocean can encourage people to be more physically active by offering opportunities for activities like swimming, surfing, paddle-boarding, and beach volleyball.
Exposure to sunlight: Spending time in the sun can help boost vitamin D levels, which is important for strong bones and a healthy immune system.
Mental health benefits: Being near the ocean can have a positive effect on mental health by promoting feelings of calm, relaxation, and well-being. Additionally, the color blue has been shown to have a calming effect on the mind and body, which is another reason why being near the ocean can be beneficial.
Of course, it's important to note that living near the ocean is not a cure-all for health problems, and that each individual's experience may vary. However, there are certainly many potential benefits to living near the ocean, both for physical and mental health.
Interested in moving to San Diego, Q Homes would love to help you find your perfect home. There's always a good deal somewhere and we promise to do our best to find them for you at Q Homes. Click on the link for our website. www.qhomescarlsbad.com.