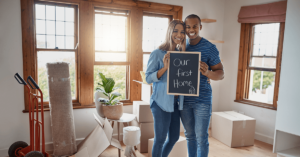 In today's real estate market, there is a fierce tug of war between high demand and low inventory, creating a challenging situation for homebuyers. The rebound in home prices has been evident, with three consecutive months of price increases. Some major markets, such as Atlanta, Miami, and Chicago, have experienced substantial growth ranging from 3% to 5%. On the other hand, cities like Boston, San Francisco, and Cleveland have seen more modest price increases.
Despite the rising prices, homebuyers are adapting to the new normal. Interest rates remain high, but the strong demand for homes has made potential buyers more comfortable with the higher rates. This confidence is fueled by the nationwide recovery, which is occurring at an even pace, albeit with some markets rebounding faster than others. Even on the West Coast, traditionally known for its expensive real estate, prices are on the rise.
According to Danielle Hale, chief economist for Realtor.com, the housing market is facing a unique challenge due to stretched buyer budgets and limited inventory. This situation has created intense competition among buyers, despite reduced affordability. High mortgage rates have deterred many homeowners from selling their properties, leading to a significant lag in new listings compared to previous years. Consequently, buyers are forced to bring their best offers to the table, even though home sales are currently 20% lower than they were at this time last year.
In this tug of war between buyer demand and limited inventory, home price trends are a reflection of the ongoing struggle. Buyers must navigate the challenges posed by higher prices and fewer available options. As the market continues to evolve, it will be essential for both buyers and sellers to stay informed and adapt to the changing dynamics of the real estate landscape.
Interested in moving to San Diego, Q Homes would love to help you find your perfect home. There's always a good deal somewhere and we promise to do our best to find them for you at Q Homes. Click on the link for our website. www.qhomescarlsbad.com.