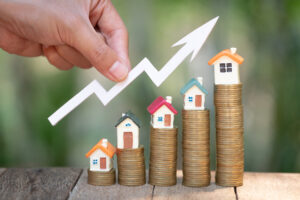 The real estate market can be volatile, with prices rising and falling unpredictably. When the market is flat, meaning there is little to no growth in property values, it can be tempting to hold off on investing in real estate. However, there are several good reasons to consider buying property even in a flat market.
Firstly, flat markets can provide opportunities for buyers to negotiate better deals on properties. Sellers may be more willing to lower their prices in a stagnant market to secure a sale, giving buyers the chance to snap up a property at a lower price than they would in a more competitive market.
Additionally, buying real estate in a flat market can offer a stable and reliable long-term investment. While short-term gains may not be as lucrative as in a booming market, properties purchased in a flat market can provide a steady return on investment over time as the market eventually picks up.
Real estate can also offer a hedge against inflation. As the cost of living increases, so too does the value of real estate, which can help to protect investors against rising prices.
Another benefit of investing in real estate in a flat market is the potential for rental income. While property values may not be increasing rapidly, rental rates can remain stable, providing a steady stream of passive income for investors.
Finally, purchasing property in a flat market can offer the opportunity for renovations and improvements to be made without the fear of overcapitalizing in a rapidly appreciating market. This can be particularly beneficial for buyers who plan to live in the property for a long time and want to make it their own.
Overall, there are many good reasons to consider buying real estate in a flat market, from negotiating better deals to enjoying long-term stability and potential rental income
Interested in moving to San Diego, Q Homes would love to help you find your perfect home. There's always a good deal somewhere and we promise to do our best to find them for you at Q Homes. Click on the link for our website. www.qhomescarlsbad.com.