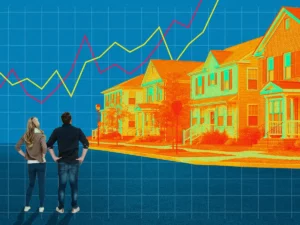 Mortgage rates have been experiencing significant fluctuations in recent times, hovering above and around the range of 6.5% to over 7%. This instability in interest rates has a direct impact on the monthly payments for homebuyers seeking a $400k loan, causing them to rise and fall accordingly. Unfortunately, for those who are already on the edge of affordability, these fluctuations can potentially push them off the cliff of being able to purchase a home.
Several factors have contributed to the current state of mortgage rates. The ongoing debt ceiling debacle, coupled with hotter than expected economic reports and a robust job market, has created an atmosphere of caution among potential buyers when it comes to locking in rates. The uncertainty surrounding the debt ceiling and its impact on the economy has created a sense of instability, making buyers hesitant to commit to a mortgage at this time.
Moreover, with interest rates surpassing the 7% mark, some buyers may find themselves unable to qualify for a loan altogether. This is because higher interest rates result in increased monthly payments, which can strain the debt-to-income ratio requirements set by lenders. As a result, aspiring homeowners may face challenges in securing the necessary financing to purchase their desired properties.
Given these circumstances, it is crucial for homebuyers to stay informed and closely monitor the fluctuations in mortgage rates. Engaging with reputable lenders and mortgage professionals can provide valuable guidance on the best course of action. Furthermore, potential buyers should take steps to improve their financial standing and creditworthiness to increase their chances of qualifying for a loan, even in the face of rising interest rates.
In summary, the fluctuating mortgage rates above and around 6.5% to over 7% have created a challenging environment for homebuyers, particularly those on the edge of affordability. The ongoing debt ceiling issues, along with strong economic reports and a competitive job market, have made buyers cautious about locking in rates. Additionally, interest rates exceeding 7% may pose qualification hurdles for some buyers. Staying informed, seeking professional advice, and enhancing financial credentials can help navigate these uncertain times and increase the chances of securing a mortgage loan.
Interested in moving to San Diego, Q Homes would love to help you find your perfect home. There's always a good deal somewhere and we promise to do our best to find them for you at Q Homes. Click on the link for our website. www.qhomescarlsbad.com.