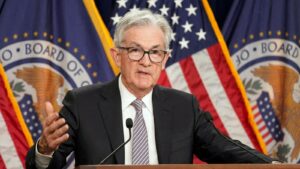 In a surprising move, the Federal Reserve has chosen to pause its streak of interest rate hikes, which had spanned over a period of 15 months, with a total of 10 consecutive increases. This decision was made following the release of fresh data revealing a 4% increase in consumer prices last month compared to the same period a year ago. The lower-than-expected rise in prices has given rise to hopes that inflation will gradually normalize.
According to Bank of America, the Fed's decision to pause interest rate hikes stems from its desire to monitor policy lags and regional bank stress. Despite this pause, the bank believes that the Fed is not indicating a prolonged halt to the rate hikes but rather considers it a temporary break. Bank of America anticipates that the Fed will clarify in its statement that the inaction in June should be viewed as a skip for the time being.
This decision by the Federal Reserve reflects a cautious approach to managing inflation and economic activity. While recent data suggests resilience in economic activity and a more subdued inflationary environment, the Fed aims to maintain a vigilant stance in order to prevent any potential risks from emerging. By monitoring the effects of the previous rate hikes and assessing regional bank stress, the Fed aims to make informed decisions that balance economic growth with price stability.
The pause in interest rate hikes could have significant implications for the economy and financial markets. It may provide some relief to borrowers, including consumers and businesses, by reducing the cost of borrowing. However, it remains to be seen how long this pause will last and whether the Fed will resume its rate hikes in the near future.
Overall, the Federal Reserve's decision to pause interest rate hikes after a prolonged series of increases reflects a cautious and data-driven approach to monetary policy. By closely monitoring economic indicators, the Fed aims to strike a balance between promoting economic growth and maintaining stable inflation levels.
Interested in moving to San Diego, Q Homes would love to help you find your perfect home. There's always a good deal somewhere and we promise to do our best to find them for you at Q Homes. Click on the link for our website. www.qhomescarlsbad.com.