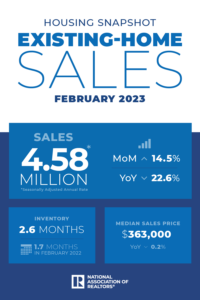 Existing home sales jumped 14.5% in February to a 11 month high. This is the first time in a year that the prices have risen. Homebuyers are taking any advantage any drops in interest rates. The current mortgage rate has dropped from high 7% to 6.67% according to Mortgage Rates Daily.
High interest rates have cooled off the real estate market and for the first time in 11 years the price of real estate dropped year over year. The current average home price is now $363,000 a drop of 0.2% from a year earlier. This mild drop is bringing in buyers into an already low inventory environment. In some markets the return of multiple offers is starting to comeback.
There is no doubt that higher interest rates have slowed the market down but this is the opportunity for save homebuyers to enter the market with negotiation power. You have the greatest a mount of power in these conditions. If you're going to wait for the market to completely recover before you begin looking for a home. You will find that prices will begin to rise quickly and that the competition will become fierce. Especially with the low inventory of homes available.
Read the entire article at CNBC by Diana Olick – Click on Link for Full Article
Interested in moving to San Diego, Q Homes would love to help you find your perfect home. There is always a good deal out there and we promise to do our best to find them for you at Q Homes. Click on the link for our website. www.qhomescarlsbad.com.