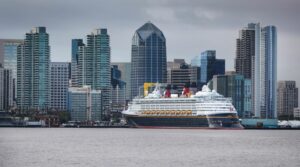 As the weather warms up across southern California people are beginning to think about their vacation plans. San Diego is a major cruise ship port with its central location on the Pacific North West, Canada, Mexico and Hawaii. With the last few years the cruise ship industry has been in contraction because of the Covid pandemic restrictions on traveling. But the industry is primed for a strong comeback after years of pent up demand because of years of quarantining. People are ready to get out and return to traveling. Norwegian Cruise Line has already signaled that 2023 has already started out strong and they expect demand to only continue to grow.
San Diego had 140 cruise ships dock with 460,000 visitors from all over the world. With ships from Disney, Holland America, Princes Cruise Line and more San Diego can continue to be a leading vacation destination throughout the summer.
Interested in moving to San Diego, Q Homes would love to help you find your perfect home. There's always a good deal somewhere and we promise to do our best to find them for you at Q Homes. Click on the link for our website. www.qhomescarlsbad.com.
Full Article from 10News San Diego – Article