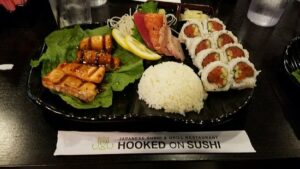 In the small coastal town of Carlsbad located in North County San Diego sits an amazing family sushi restaurant that envelopes the local vibe of SoCal. Hooked on Sushi in Carlsbad is a mainstay for many families who have a love for a relaxed atmosphere topped off with amazing food. The journey began in 2006 for Meeseun and Brian. Brian joined the chef team and worked his way through the ranks to learn the art of making and serving sushi. Through their love of food their journey has turned into multiple successful restaurants that span Carlsbad, Encinitas, San Marcos and Austin. Their success has not slowed them down as they have recently opened up their newest flagship restaurant called Sushi Taisho located at 300 Carlsbad Village Dr. Suite 214. This new location has already become a stop off as you make your way around The Carlsbad Village area. These restaurants personify the American dream of working hard and starting something that becomes a success.
If you would like to make a reservation at Hooked on Sushi Click on Link
Interested in moving to San Diego, Q Homes would love to help you find your perfect home. There is always a good deal out there and we promise to do our best to find them for you at Q Homes. Click on the link for our website. www.qhomescarlsbad.com.