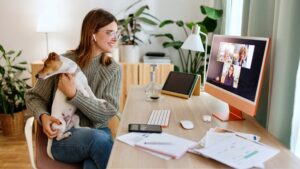 After 3 years of people working remotely has the time come for everyone to go back to the office in 2023? Many companies are trying to end remote work and require a minimum amount of days a week in the office. Not surprisingly many employers are facing resistance from its employees about returning to the office 40 hours a week. There was a mentality that people enjoyed commuting to work and meeting in a central location. But since the Covid Pandemic forced the workforce to work remotely there seems to be no turning back. Companies like Google, Apple, Tesla and more are having a time getting its employees to come back to office.
The remote work trend is here to stay. Employees are willing to leave their current job and even take a pay cut to be able to work remotely. This trend continuing the desire for workers to upgrade their homes so that they can remote work. This trend has put pressure on an already competitive market for homes. With rising interest rates and low sentiment in the real estate market. This may be a good opportunity to purchase a home with room to work from home. Buyers have the power in negotiating and have a great chance of being able to get some concessions from the sellers.
Interested in moving to San Diego, Q Homes would love to help you find your perfect home. There is always a good deal out there and we promise to do our best to find them for you at Q Homes. Click on the link for our website. www.qhomescarlsbad.com.